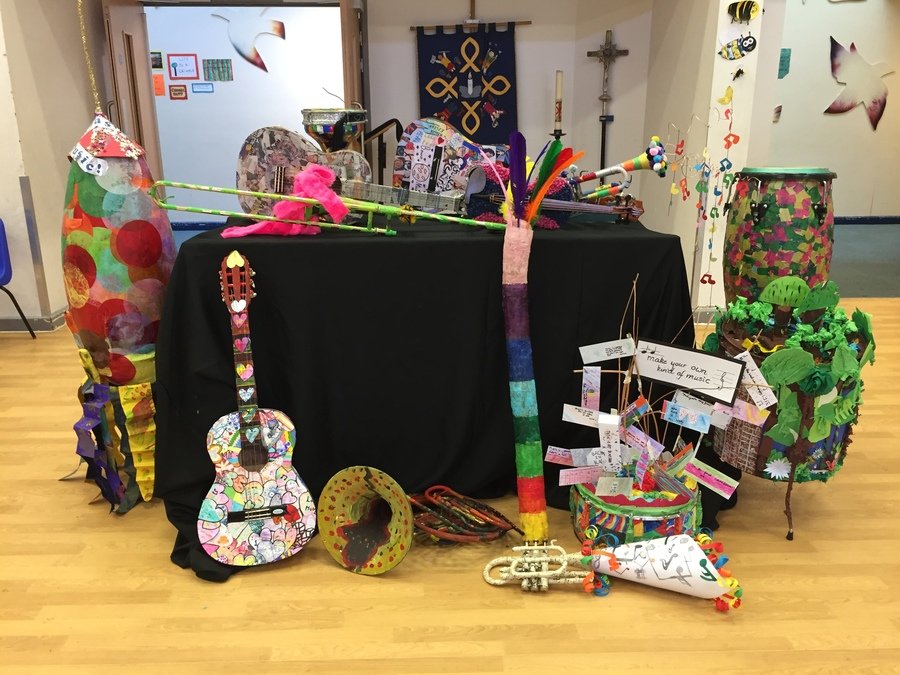 CLASSROOM MUSIC

At St. Andrew's, the intention is that children gain a firm understanding of what music is through listening, singing, playing, evaluating, analysing, and composing across a wide variety of historical periods, styles, traditions, and musical genres.

Our objective is to develop a curiosity for the subject, as well as an understanding and acceptance of the validity and importance of all types of music, and an unbiased respect for the role that music may wish to be expressed in any person's life. We are committed to ensuring children understand the value and importance of music in the wider community, and are able to use their musical skills, knowledge, and experiences to involve themselves in music, in a variety of different contexts.
YEAR 5 EUROVISION SONG CONTEST
Year 5 had a very entertaining afternoon sharing in their Eurovision Song Contest!
We are so proud of all of the children for the efforts that they made, not only in their song writing, but also in their thoughts for costumes, props and choreography!
Every entry was amazing and our judges scored each country very highly! It was a very close competition but the final results all came down to the 'People's Vote' (the children voting for each other).
The top 3 countries this year were:
Here are some examples of what has been happening in our classroom music lessons ♫
Year 4 performing their Viking Raps
Year 6 exploring rhythm and beat using cups
Year 6 pupils performing their parody composition of 'We Didn't Start the Fire'
Year 5 Body Percussion compositions based on 'Connect It' by Anna Meredith
Year 5 performing 'The First Noel' on the boomwackers
Year 6 pupils performing their parody composition of 'We Didn't Start the Fire'